2022 Impact Award Finalists Honored
May 13, 2022 by Office of Marketing and Communication
Student Achievements

Senior Sam Rodmyre is the 30th recipient of the Impact Award
MILWAUKEE - Wisconsin Lutheran College students were honored at the 2022 Impact Award Luncheon, an annual student leadership recognition event, on Wednesday, May 11 in the Recreation Complex's Siebert Center.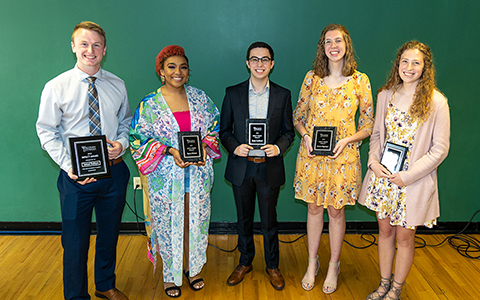 Wisconsin Lutheran College senior Sam Rodmyre (pictured at left), a biology major from Federal Way, Washington, is the 30th recipient of the college's Impact Award. As a student-athlete competing in track & field, Sam served as team captain and was named a Northern Athletics Collegiate Conference Scholar-Athlete three times. He also serves as a resident assistant for Residence Life. As part of the Christian Leadership Certificate Program, Sam was captain of the Sleep in Heavenly Peace team, which worked with volunteers to build and deliver beds to local families in need. He plans to attend Lake Erie College of Osteopathic Medicine in Florida this fall to become a Doctor of Osteopathic Medicine.
The other finalists for the Impact Award honored at the luncheon were (pictured left to right) Rayna Nickson, Brady Coulthard, Karson Hilgendorf, and Grace Stroh.
The event featured a keynote speech from Nathan Rosenberg, a 2012 graduate of Wisconsin Lutheran College and a member of the first WLC class of nursing grads.
Also recognized at the event were members of the Warrior Events Board and Student Senate, senior Conduct Board members, and Resident Assistants.