Wisconsin Lutheran Choir Will Tour in March
February 08, 2022 by Office of Marketing and Communication
Fine Arts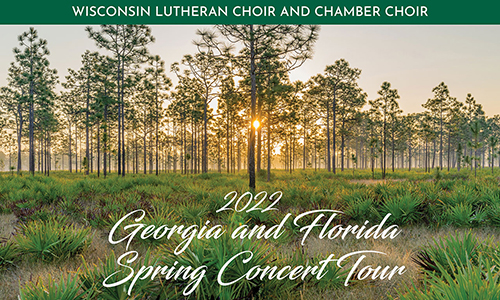 The Georgia and Florida Spring Concert Tour Begins March 13
MILWAUKEE - The Wisconsin Lutheran Choir and Chamber Choir of Wisconsin Lutheran College, under the direction of Dr. James A. Nowack, will perform four concerts in Georgia and Florida from March 13-18. The 2022 Spring Tour will conclude with a home concert in Wisconsin Lutheran College's Schwan Concert Hall on Friday, March 25.
The inspirational concert program of sacred choral literature spans several periods and genres. The Wisconsin Lutheran Choir repertoire contrasts classic works of Heinrich Schütz, Alexander Gretchaninoff, and Felix Mendelssohn with those of contemporary composers Ola Gjeilo, Z. Randall Stroope, Shawn Kirchner, Philip W. J. Stopford, and more. 
The program concludes with Is He Worthy? by Andrew Peterson and Ben Shive, arranged by Dan Forrest. This stirring anthem blends call-and-response questions posed in the book of Revelation with musical passages from Handel's Messiah.
The 28-voice Chamber Choir will perform sacred repertoire including Patrick Hawes' "The Poor in Spirit" from the extended work Beatitudes, Z. Randall Stroope's Lamentations of Jeremiah, and Lord of the Dance by Larry Fleming. 
Dr. James Nowack, director of choral activities at Wisconsin Lutheran College since 1994, serves as guest conductor, clinician, and adjudicator. Under Nowack's direction, the Wisconsin Lutheran Choir has developed a unified voice and a respected presence in the Midwest.
---
Wisconsin Lutheran College is a nationally ranked Christian college in Milwaukee that serves 1,100 traditional undergraduate, adult, and graduate students through its on-campus and online programming. The college, which prepares students for lives of Christian leadership, is recognized for its academic excellence and superior student experience.
---
2022 Spring Concert Tour
Concerts are free and open to the public. For concert information, call the number listed for each location.
SUNDAY, MARCH 13
10:30 AM Worship Service
2:00 PM Concert
Abiding Grace Lutheran Church
5500 Highway 212
Covington, Georgia
MONDAY, MARCH 14
7:00 PM Concert
Victory Lutheran Church
4651 Kernan Boulevard South
Jacksonville, Florida
THURSDAY, MARCH 17
7:00 PM Concert
Crown of Life Lutheran Church
5820 Daniels Parkway
Fort Myers, Florida
FRIDAY, MARCH 18
3:30 PM Concert
Open Bible Lutheran Church
4671 Bellwether Lane
Oxford, Florida
FRIDAY, MARCH 25
7:30 PM Home Concert
Free; tickets required
Wisconsin Lutheran College
Center for Arts and Performance
8815 West Wisconsin Avenue
Milwaukee, Wisconsin