David Green Receives Divine Servant Award
April 30, 2019 by Office of Marketing and Communication
Christian Leadership

WLC Honors Green as Third Divine Servant Award Recipient
Milwaukee, WI - David Green, Founder and CEO of Hobby Lobby, was honored as the 2019 recipient of the Divine Servant Award by Wisconsin Lutheran College (WLC) on Friday, April 26, 2019. 
Wisconsin Lutheran College established the Divine Servant Award in 2017 as an opportunity to honor an individual who exemplifies qualities of Christian servant leadership and who has exhibited Christian values throughout his or her life of service. This event also serves as an awareness and scholarship fundraising event for WLC.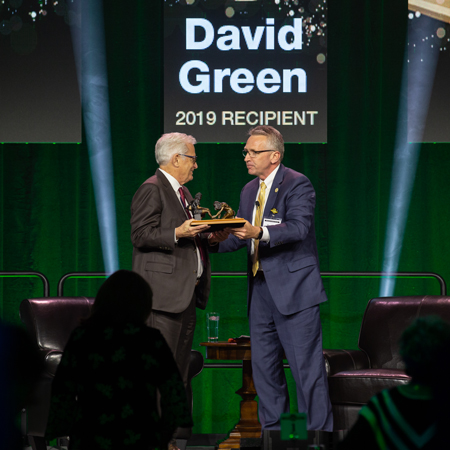 More than 500 guests attended the 2019 Divine Servant Award Celebration to recognize David Green with this award; to experience a program with the themes of freedom, free enterprise, and the entrepreneurial spirit; and to impact the next generation of Christian servant leaders. This event raised over $985,000 for student scholarships at Wisconsin Lutheran College.
"The mission of WLC has always been to prepare Christian servant leaders who will influence and change our world," said Dr. Daniel W. Johnson, President of Wisconsin Lutheran College. "This evening, we had the privilege of welcoming an American entrepreneur and a bold leader to Milwaukee and our campus. David Green exemplifies Christian servant leadership and is an inspiration to all of us."
Hobby Lobby was started nearly 50 years ago by David and his wife, Barbara, initially with one store in Oklahoma City. Today, it is the largest privately owned arts and crafts retailer in the world, operates nearly 850 stores, and has more than 37,500 employees. David is also the author of two books, More than a Hobby, and his most recent book, Giving it All Away … And Getting It All Back Again: The Way of Living Generously.
In a question-and-answer session with Dr. Johnson during the evening's program, David reflected on his experiences in growing Hobby Lobby to where it is today, on his successful U.S. Supreme Court battle involving the Affordable Care Act, and on his philosophy of the power of generosity as evidenced by his support of the community and many Christian ministries and charities. 
"We do everything we can to care about our people. That's why we close on Sunday, we close at 8 o'clock in the evening, and are only open 66 hours a week," said David. "I just don't want to talk the talk, I want to walk the walk that we care about our employees. It's really good business to take care of your people."
Prior to the Divine Servant Award Celebration, Green toured the WLC campus and spent time talking with the WLC student body, faculty, and staff.
Green is the third recipient of the Divine Servant Award. The inaugural award was presented to the 43rd President of the United States, the Honorable George W. Bush, in April 2017 and to NFL Hall of Fame coach Tony Dungy in 2018.
The evening was capped off with a mini concert by Special Guest Artist Danny Gokey, whose current album "Haven't Seen it Yet" debuted at #1 on Billboard's Top Christian/Gospel Album chart.