April Featured Alumnus: Cameron Teske
March 28, 2022 by Office of Marketing and Communication
Alumni

MEET CAMERON TESKE '11 m.a. '15
MAJORS: B.A. IN COMMUNICATIVE ARTS, M.A. IN LEADERSHIP AND INNOVATION

CURRENT ROLE:
VICE PRESIDENT OF VISITOR EXPERIENCES AT DISCOVER GREEN BAY
---
Why did you choose WLC?
Wisconsin Lutheran College was not originally on my college radar. I had gone to a smaller school my whole life, so I was looking at some large universities. But from the moment I first stepped onto the Wisconsin Lutheran College campus, I knew this was the right fit for me. The student who showed me around campus was passionate and excited about their experience. Each professor I talked with seemed to genuinely care for their students and their field. I was also able to continue playing soccer.
Tell us about your favorite WLC experience.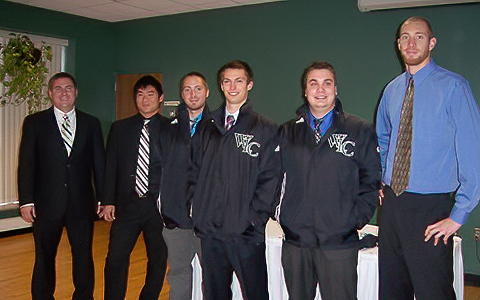 WLC offered such great opportunities to be involved in so many things on campus that fueled wonderful memories. Playing college soccer has been one of my greatest life experiences. It helped me develop great leadership skills, forged lifelong friendships, and taught me the importance of teamwork and the benefits of persistently working hard in order to win.
Who is your favorite WLC professor or staff member?
Professor Amanda Kohlmetz [née Bernhardt, WLC Class of 1993], who taught my public relations courses, was one of my favorites! She did a great job of bringing real-world situations into the classroom and getting her students to put themselves into really needing to solve or respond to the issues. She made the whole process of learning enjoyable yet challenging. She allowed us to think critically and creatively. Her public relations classes were also where I learned to be comfortable with public speaking. She helped me develop those skills and I was eager to continue improving. 
What have you accomplished since graduation?
Writing assignments and presentations were always my favorite projects in school. I've now taken both of those skills I honed while at WLC to help me with two bucket list items. I had always wanted to write a book. I was fortunate enough to be selected by Arcadia Publishing to write Green Bay Beer: A History of the Craft, a book on the nearly 200-year-history of brewing in Green Bay. That book was published in Fall 2020, which spawned the launch of my beer and brewery podcast, Pour Another Round.
What is next on your bucket list to complete?
While in school, I spent a semester in Orlando in the Disney College Program (which was also one of my favorite college experiences … and I'd highly recommend to everyone a semester abroad or a far-away internship!). I took a creativity and innovation course at Disney University (yes, it's a real thing and yes, I graduated with my Duck-torate degree). One of the projects for that course was to write a bucket list. Nineteen-year-old-me dreamt of using those huge scissors for a ribbon cutting ceremony opening a new business. I had no dreams of opening a business, though.

I've been overseeing the Discover Green Bay Visitor Center project, from funding to design to building. We're planning to break ground this spring. After several years of ups and downs during the project, I can't wait to have those giant scissors in my hand, cutting a ribbon as we open a visitor center in Green Bay.
---
"My education and experiences at WLC were worth every dollar. I support WLC so future Warriors are ensured the same great opportunities I was. Whether through scholarships or institutional improvements, the continued success of WLC is important for past, present, and future students."
---