WLC Announces NCLEX-RN Exam Results
September 05, 2019 by Office of Marketing and Communication
Academics

All 2019 WLC Nursing Grads Pass RN Exam on First Try
MILWAUKEE, WI -  The Wisconsin Lutheran College School of Nursing and Allied Health is pleased to announce that 100% of its May 2019 nursing graduates passed the state board exam [National Council of State Boards of Nursing (NCLEX-RN)] on their first attempt, exceeding the national average pass rate 92.8%.
Wisconsin Lutheran College is committed to preparing future nurses who will be at the forefront of transformational healthcare delivery. According to the Institute of Medicine (IOM), baccalaureate degree prepared nurses have the comprehensive skills required for the future of nursing. Over the past decade, the nursing profession has evolved to play an even more critical role in the healthcare continuum as our nation is faced with a surge of aging adults needing more complex care. Coupled with the large proportion of nurses nearing retirement, the need for well-prepared registered nurses is vital.
"We believe in developing well-rounded nurses, and we accomplish this by providing our students with the spiritual, professional, intellectual, social, and educational experiences that are required in today's healthcare environment," says Sheryl Scott, DNP, RN, CNE, Associate Professor and Chair of the School of Nursing at Wisconsin Lutheran College. "WLC nursing graduates are entering the workforce as Christian servant leaders with critical thinking, collaboration, and communication skills that are integral to providing safe, high-quality patient care."
All 21 of WLC's 2019 nursing graduates (pictured below) were employed either prior to graduation or within a month thereafter.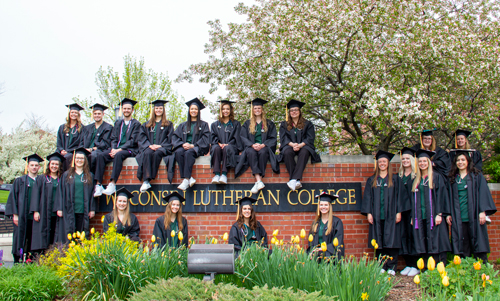 ---
About Wisconsin Lutheran College 
Wisconsin Lutheran College was established in 1973 and is an independent, nationally ranked Christian college in Milwaukee that serves 1,200 traditional undergraduate, adult, and graduate students through its on-campus and online programming. The college, which prepares students for lives of Christian leadership, is recognized for its academic excellence and superior student experience. Caring, Christian faculty work directly with students, who benefit from numerous research, service, and co-curricular opportunities designed to enhance academic and spiritual growth.