Categories: Center for Christian Leadership Development
Divine Servant Award Celebration
friday, june 2, 2023 - 6:00 p.m.
Wisconsin Lutheran College will present the Divine Servant Award to Kurt and Brenda Warner during a celebration event on Friday, June 2, 2023. The 2023 Divine Servant Award Celebration will take place at Discovery World in downtown Milwaukee.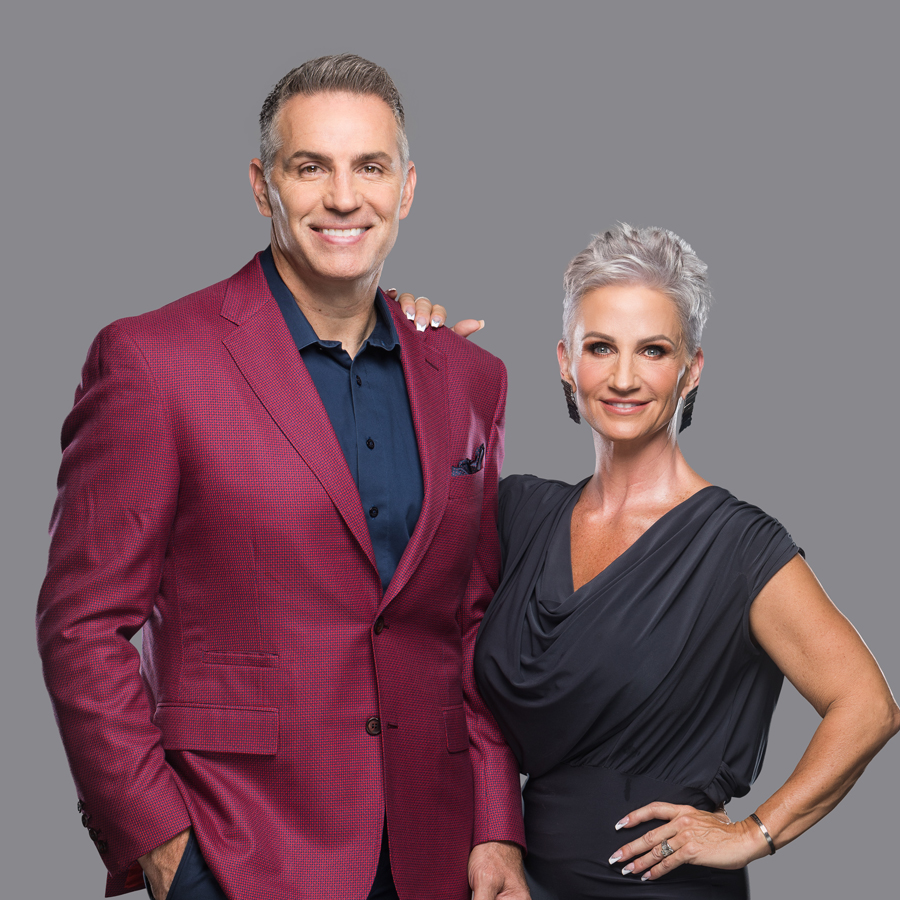 KURT WARNER – Super Bowl Champion Quarterback and Two-Time NFL MVP
BRENDA WARNER – Speaker, Philanthropist, and New York Times Best-Selling Author 
The Warners were featured in the recent film American Underdog. Watch the movie trailer to learn more about their incredible story.
---
schedule of events
6:00 p.m. - Reception
7:00 p.m. - Pre-Dinner Program and Dinner
8:15 p.m. - Award Program and a Conversation with Kurt and Brenda Warner
9:20 p.m. - Afterglow Reception

ABOUT THE EVENT
Join us for a delightful evening of networking and mingling with fellow leaders while supporting scholarships for Wisconsin Lutheran College students who will make an impact on our community. The celebration will take place at Discovery World, a spectacular location on Lake Michigan overlooking downtown Milwaukee. Savor tantalizing hors d'oeuvres, wine, and beer while learning about Kurt and Brenda Warner. Feast on a three-course gourmet dinner by Bartolotta Catering and Events. Learn about our awardees' extraordinary lives and careers through a moderated conversation. Cap off your evening with musical entertainment while enjoying a coffee and dessert bar.
All proceeds from this fundraising event will directly impact the next generation of Christian servant leaders in the form of scholarships at Wisconsin Lutheran College.
Registration for the DSA Celebration is now closed. If you are still interested in attending, a limited number of seats may be available. To check on current availability, please contact Dr. Rich Mannisto, Vice President of Advancement, by email or at 414.443.8788. 
LEARN MORE ABOUT THE DIVINE SERVANT AWARD
---
ABOUT THE 2023 RECIPIENTS
Kurt Warner
While the football narrative of NFL quarterback Kurt Warner reads like a rags-to-riches Hollywood script, it is the story of a man filled with dignity, class, and undeniable faith that captured the imagination of the sports world and beyond. Warner continually beat the odds to quarterback two perennial doormat franchises to the Super Bowl and etched his name in the NFL record books along the way.
The first chapter of Warner's tale was written in 1999 when he defied logic by emerging from obscurity to lead the St. Louis Rams to a victory in Super Bowl XXXIV. In that same year, Warner was named the NFL and Super Bowl Most Valuable Player. For the next two years, Kurt continued to be a dominant force in the NFL as the ringleader of what became known as the "Greatest Show on Turf." He led the Rams to two additional playoff appearances – including another Super Bowl - and received Pro Bowl honors for three consecutive years (1999-2001). He also was one of a few NFL players to be recognized with two NFL MVP awards, receiving his second after the 2001 season.
After suffering from injuries and watching from the sideline, Warner was released by the Rams in 2004 and signed a one-year contract with the New York Giants. In March 2005, he was signed by the Arizona Cardinals, where most football experts expected him to end his career unceremoniously. In 2007, the veteran signal-caller battled through an elbow injury to begin his renaissance with a passer rating of 89.8. In 2008, he led the Cardinals to their first-ever Super Bowl berth, was voted to his fourth Pro Bowl, and surpassed several Cardinals' franchise records, including touchdowns, attempts, completions, completion percentage, and passer rating.
Arguably at his best in the postseason, Warner earned several NFL career postseason records at the time (passing yards per game, career completion percentage, yards per attempt). Having three of the top six passing performances in Super Bowl history (414, 377, 365), Warner holds the record for second-most career Super Bowl passing yards with 1,156.
After a record-laden 12-year career, Warner retired from the NFL following the 2009 season. His post-NFL career is anything but relaxing as he continues to impress with his football knowledge in broadcasting as an analyst with the NFL Network and Westwood One. Warner often captivates crowds as a motivational speaker, and in 2010 he joined the cast of Dancing with the Stars – Season 11, finishing a respectable 5th thanks to his charm, competitive spirit, and growing fan base.
In 2013 Kurt hosted a new reality series, The Moment, on USA Network. In nine episodes, Warner took men and women on a life-changing journey by giving them a second chance at a career path they never dreamed possible. In 2013 Warner was nominated for a Sports Emmy as Outstanding Studio Analyst for his work on NFL Network. For his role on The Moment, Kurt was nominated for the Critics Choice Television Award - Best Reality Host.
Kurt Warner reached the pinnacle of success on the field, but his gridiron accomplishments pale in comparison to the dedication he devotes to the community. In 2001, Kurt and his wife, Brenda, established the First Things First Foundation, a nonprofit public charity dedicated to impacting lives in a lasting way by promoting Christian values, sharing experiences, and providing opportunities to encourage everyone that all things are possible when people seek to put first things first.
First Things First has compiled an impressive philanthropic resume blessing countless children and families through the diverse programs of the foundation. A small sampling of First Things First's outreach includes: hosting annual week-long trips to Disney World for children in medical crisis and their families; rewarding hard-working single mothers who achieve the dream of homeownership; raising over $875,000 for rebuilding efforts after the 2008 Midwest floods; collecting and distributing more than 260,000 coats from an annual coat drive in greater St. Louis; annually delivering more than 100 stockings for a Christmas Day surprise for foster children; providing scholarships to youth groups doing service-based mission trips; and fostering an attitude of inclusion for children and adults with special needs.
In 2012, Kurt and Brenda founded Treasure House, a Christian-based supported living community for young adults with intellectual and developmental disabilities. Treasure House offers an affordable residential opportunity to cultivate independence with the appropriate resources. The first community opened in the Phoenix, Arizona, area in 2018 with a vision to expand to other communities.
Warner's off-the-field accolades include the Walter Payton NFL Man of the Year, The Good Guy Award from the Pro Football Writers Association, USA Weekend's Most Caring Athlete, ABC World News Person of the Week, Forbes Magazine-America's Most-Liked Sports Figure, Sports Illustrated-Best Role Model, and the Bart Starr Award. In 2017 Warner was given the ultimate praise in professional football when he was inducted into the Pro Football Hall of Fame.
To encapsulate all of this, Warner inked a deal with Lionsgate Films to bring his life story to the big screen with producers Kingdom Studios at the helm. The movie American Underdog was released in theatres in December 2021 and received an A+ CinemaScore and a 98% Rotten Tomatoes audience score. In the spring of 2021, Warner launched a teaching/instruction platform called QBConfidential (QBC). This is a video-based/membership-only website that delves into the various aspects of learning, viewing, and coaching the game of football. It features video tutorials from Kurt on X's & O's, mechanics, mindset, play calling, leadership, and more.
Kurt Warner lives in Arizona with his wife, Brenda, and seven children Zachary, Jesse Jo (Daniel), Kade, Jada Jo, Elijah, twins Sienna and Sierra, and two grandchildren, Nola and Romy.
Follow Kurt Warner on Twitter.
Brenda Warner
Brenda Warner is a speaker, philanthropist, and New York Times best-selling author. She is the mother of seven children, a grandmom of two, a registered nurse, and United States Marine. But most of all, she is a storyteller who candidly shares her struggles in hopes that her life experiences can help other women. Through her message of hope and faith, and her charitable work, she inspires others during their own dark days.
As a sought-after speaker nationwide, Brenda encourages her audiences to take responsibility for their choices and to depend on their faith when they hit rough patches. Audiences have cried and belly-laughed during her keynote speeches at women's conferences, banquets, churches, sporting events, and business expos. Listeners have found practical hope through her stories about her family, her work with special-needs children, her triumphs over obstacles, and the blessings and burdens of being a celebrity wife.
Together with her husband, Hall of Fame NFL quarterback Kurt Warner, Brenda is also co-founder of two nonprofit organizations: First Things First and Treasure House. As the creative catalyst for most of the First Things First Foundation programs, Brenda's ideas often originate from her own life experiences. Under the direction of Brenda and her husband, the foundation seeks to promote Christian values and bless those who are struggling. Several years ago, Brenda had a vision for a home where young adults with intellectual and developmental disabilities could participate in their community, achieve independence, and realize their purpose. That home, called Treasure House, opened its doors to residents in 2018. Brenda also uses her passion for creating works of art through her welding shop as a fundraising catalyst for Treasure House. Metal Art by B includes a unique collection of jewelry and metal art.
In 2009, Brenda joined Kurt in co-authoring a book appropriately titled First Things First: The Rules of Being a Warner, which debuted on the New York Times Best Seller list. In 2011, she released her memoir One Call Away: Answering Life's Challenges with Unshakable Faith.
Follow Brenda Warner on Twitter.
EVENT LOCATION
Discovery World
500 North Harbor Drive
Milwaukee, Wisconsin