WLC Honors Kathie Lee Gifford
June 10, 2022 by Office of Marketing and Communication
Christian Leadership

Kathie Lee Gifford Receives 2022 Divine Servant Award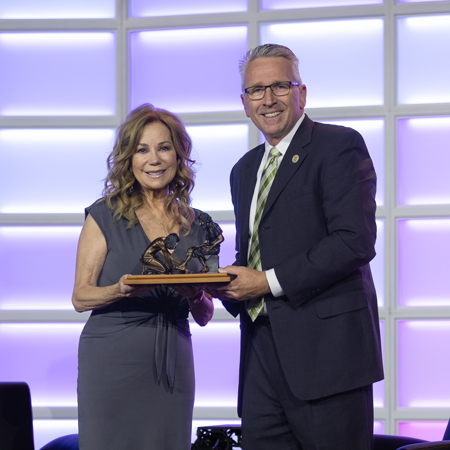 Wisconsin Lutheran College presented the Divine Servant Award to Kathie Lee Gifford during a celebration event on June 3. Gifford is an Emmy Award-winning host and prolific playwright, recording artist, author, and humanitarian who brings an uplifting spirit to every event.
The fifth Divine Servant Award Celebration took place on a beautiful evening, with the event once again returning to WLC's main campus. More than 400 guests enjoyed an event filled with fun, food, and conversation, while raising more than $760,000 for student scholarships. Past recipients of the Award are President George W. Bush, Tony Dungy, David Green, and Tim Tebow.
After a three-course gourmet dinner catered by The Bartolotta Restaurants, WLC's president, Dr. Daniel W. Johnson, welcomed Gifford to join him on stage in the Time of Grace Center. Their conversation spanned such topics as living your life for Jesus, the importance of prayer, and forgiveness. A warm, genuine, and entertaining individual, Gifford shared many great moments on what it was like to be a Christian in Hollywood and in the entertainment industry.
The Divine Servant Award celebrates those who demonstrate and epitomize the values of Christian servant leadership and the proceeds from the event benefit students through scholarships to attend WLC.