September Featured Alumna: Holly Wempner
August 29, 2022 by Office of Marketing and Communication
Alumni

MEET HOLLY (KRENEK) WEMPNER '92
MAJOR: MATHEMATICS
CURRENT ROLE: ADMINISTRATIVE ASSISTANT FOR WLC'S SCHOOL OF EDUCATION
---
Why did you choose WLC?
I had planned to play basketball for another college and received a call from the athletic director at Wisconsin Lutheran College. When I hung up the phone, I told my parents I was going on an obligatory visit to be nice, but I was not attending WLC. At that visit, I fell in love with the campus - the size, the family-feel, the way I was treated - and decided to commit to WLC to play basketball and also my first love, volleyball. I call it "divine intervention" because if that phone call had not been made, I would be telling a different story.
Tell us about your favorite WLC experience.
My sophomore year we played UW-Whitewater in volleyball. This little Lutheran college from Milwaukee in old vans and old uniforms strolled in and took this big UW school by surprise. We didn't win, but we put up an impressive fight, taking them to five sets. I like to imagine that they still talk about that day. We ended up winning the first Lake Michigan Conference Championship in volleyball in the history of the school and kept that crown three straight years. Proud to be a Warrior!
Who is your favorite WLC professor or staff member?
As with everyone, it's tough to pick just one. I would have to say my volleyball and basketball coaches: Coach Jenkins and Coach Smith. Playing for them was one of the most memorable things I've done - the fun we had, the road trips, the victories, the defeats, the comradery, wondering where we'd play/practice next (no REX for us yet), the funny stories (many involving that cruddy old van!), and the fact that we knew they always, always had our backs. Since moving back to Wisconsin, I've been grateful to reconnect with both of them. 
What have you accomplished since graduation?
Unfortunately, I haven't met Duran Duran (yet!), but I did accomplish being a mom to three amazing kids who love their Savior and their family. Being a mom has been one of the most fulfilling things I've accomplished in my lifetime.
What is next on your bucket list to complete?
I'd like to get back to Europe someday with my family. My husband and I were there in 2000 for three weeks, and it was not enough time to explore all those unique and picturesque countries.
---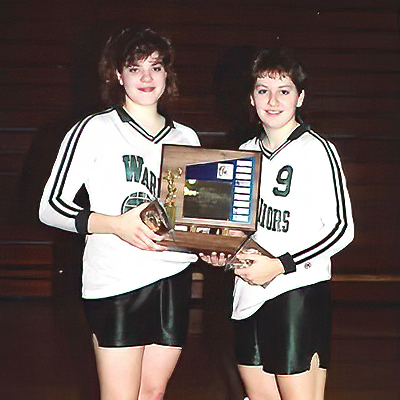 ---
"This place cares about you. I've been fortunate enough to now work at my alma mater and am thankful each day that I am surrounded by Christian faculty, staff, and students. The fact that we can share our faith and tell a student that we'll keep them in our prayers is something most cannot do. My sons both attend WLC, and my heart is thankful they are in a place where they can grow in their faith and be surrounded by like-minded Christians."
---