June Featured Alumna: Katie Steinegger
May 25, 2022 by Office of Marketing and Communication
Alumni

MEET KATIE STEINEGGER '13
MAJOR: ENGLISH
CURRENT ROLE:
ADMISSIONS OFFICE MANAGER AT WISCONSIN LUTHERAN COLLEGE
---
Why did you choose WLC?
I chose Wisconsin Lutheran College to be surrounded and supported by Christian teachers and students. WLC was also close to home and offered more majors than education, which gave me the opportunity to seamlessly change my major to English my second year.
Tell us about your favorite WLC experience.
Chapel, graduation, George W. Bush … I can't pick just one!
As a student, I knew daily chapel was important, but once you enter the workforce, you realize how uniquely special it is to worship Jesus Christ as our Savior with all members of a college community. 
Graduation was amazing because you are ultra-aware of how much God blessed you to make that degree possible. He placed family, friends, and faculty in your life to pray, lead, and feed you along the way.
My brother, Josh (a 2015 grad), and I attended the inaugural Divine Servant Award Celebration. Seeing President George W. Bush at our alma mater on the same stage that we received our diplomas was surreal and filled us with patriotism and school pride.
Who is your favorite WLC professor or staff member?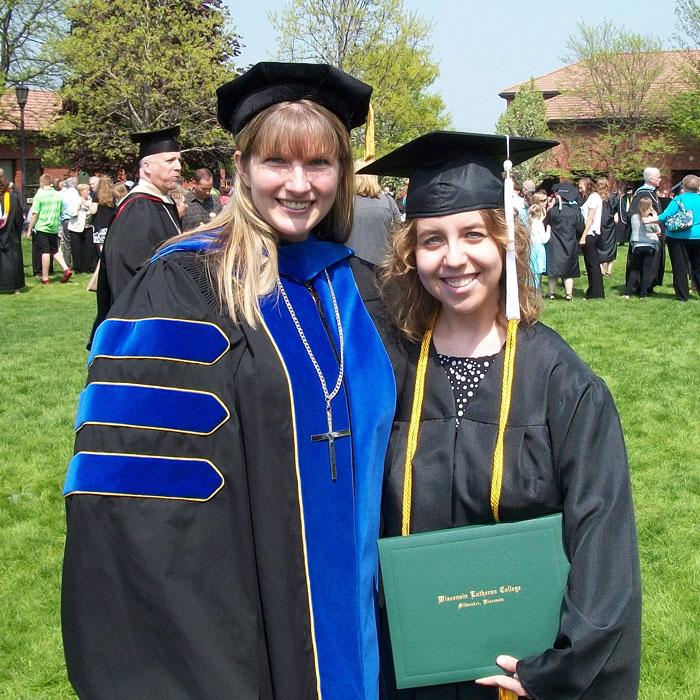 Classes I took with Dr. Rebecca Parker Fedewa [WLC Class of 2001, pictured with Katie at commencement] were a joy, and her constructive feedback sharpened my writing skills. Rebecca is Faith > Fortune 500. She cares about you more than any worldly success. Graduation was not goodbye but the beginning of a friendship founded on Biblical encouragement (you don't get that at other schools)! 
What have you accomplished since graduation?
Paid off my student loans! Read 300 books. Traveled solo halfway across the country (during a pandemic - that part wasn't on the list).
What is next on your bucket list to complete?
Meet and marry a man who loves Jesus. Buy my first place. Travel to Waco, Texas, to visit all the Magnolia sites (Silos, Table, Baking Co., Press, Fixer Upper houses).
---
"The world needs more WLC graduates - men and women who know the Truth and servant lead in their places of employment and community to let the love of Christ shine."
---