March Featured Alumna: Carrie Tjernagel
February 24, 2022 by Office of Marketing and Communication
Alumni

MEET CARRIE (OTTO) TJERNAGEL '95
MAJOR: ENGLISH
CURRENT ROLE:
OWNER, 4257 DOOR COUNTY; MARKETING SPECIALIST AND PROPERTY COORDINATOR, SIMPLE LIFE RENTALS
---
Why did you choose WLC?
I wanted to attend a Christian college to continue my education. I also had the opportunity to participate in athletics - basketball and softball. I had attended a small high school, so the small class sizes were also a draw for me.
Tell us about your favorite WLC experience.
The building and opening of the REX. My first year at WLC we had to practice and play our basketball games at multiple facilities with strange practice times, dependent on when we could get gym time. Watching the REX being built and then playing the first games in it were exciting for the basketball programs. Being able to train in the weight room and use the fitness facilities was, and still is, a great asset to the athletic program.
Who is your favorite WLC professor or staff member?
Cheryl (Pasbrig) Iwinski '91, because she gave me a job in the Athletic Department as a student. She always encouraged me throughout my education, as I chose a major and navigated toward what I wanted to do. She was also an example of someone dedicated to their job - always working tirelessly to help Coach Paul Knueppel run the WLC Athletic Department. 
What have you accomplished since graduation?
I caught a 53.5-inch Muskie and currently hold our family record for the biggest Muskie.
What is next on your bucket list to complete?
 I want to fully embrace the winter season by taking up ice fishing and other winter sports.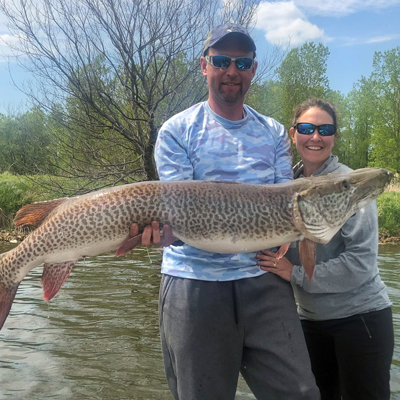 ---
"Having a place to continue a Christian education is so important in today's world. We need more Christian leaders in our society, and WLC is helping to create those leaders."
---