WLC Announces Program Accreditation
February 01, 2022 by Office of Marketing and Communication
Academics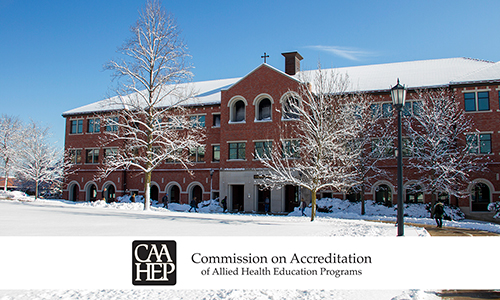 WLC has the only Exercise Science program in Wisconsin to be accredited by CAAHEP
MILWAUKEE, WI - The Commission on Accreditation of Allied Health Education Programs (CAAHEP) informed Wisconsin Lutheran College (WLC) of its vote on January 20, 2022, to award initial accreditation to the college's Exercise Science program. The recent peer review conducted by the Committee on Accreditation for the Exercise Sciences (CoAES) and CAAHEP's Board of Directors recognizes the program's compliance with the nationally established accreditation standards.
The national accreditation standards are established by CAAHEP, CoAES, American College of Sports Medicine, American Council on Exercise, American Kinesiotherapy Association, American Red Cross, National Academy of Sports Medicine, and National Council on Strength & Fitness.
As of this writing, WLC's Bachelor of Science in Sport and Exercise Science (SPE) degree program becomes one of only 64 baccalaureate programs nationally, and the only Exercise Science program in Wisconsin, to be accredited by CAAHEP. The accreditation underscores the commitment WLC demonstrates to continuous quality improvement in education.
"Since the launch of WLC's Sport and Exercise Science major in spring 2011, the program has seen curriculum enhancements, new labs and equipment, and increasing enrollment. The CAAHEP accreditation is a testimony to the students and alumni who have provided feedback and continue to stay involved, and it's also a reflection on the wonderful faculty who teach within the program," said Prof. Rachel Kuehl, Department Head of Sport and Exercise Science. "CAAHEP accreditation recognizes that our students are well prepared for the workforce or graduate school upon graduating from WLC."
Students enrolled in the college's Sport and Exercise Science program learn by doing, taking advantage of small, active, and participatory lab experiences. In 2019, a new exercise science lab was added to Generac Hall, the college's premier academic building. The lab features gold-standard equipment, including a hydrostatic weighing tank for underwater weighing and body composition measurements, Watt and Monark bikes, force plates, and a force plate treadmill. In addition to extensive lab training, students engage in experiential learning through diverse internships in Milwaukee's major medical complexes and hospitals, undergraduate research projects, and dual-degree opportunities which place them in graduate-school classrooms earlier than typical.
"The CAAHEP accreditation process for Exercise Science programs includes a comprehensive evaluation of a wide range of program characteristics including faculty credentials, laboratory facilities, assessment plans, and student outcomes," stated Dr. Robert Balza, Dean of the College of Health Sciences. "Those close to the program have known of its excellence for years, but now that our Sport and Exercise Science major is nationally accredited - the secret is out of the box!"
---
About CAAHEP
The Commission on Accreditation of Allied Health Education Programs (CAAHEP) is a programmatic postsecondary accrediting agency recognized by the Council for Higher Education Accreditation (CHEA) and carries out its accrediting activities in cooperation with 25 review Committees on Accreditation. CAAHEP accredits educational programs that prepare health professionals in a variety of disciplinary areas. Accreditation is one step in a process that is meant to protect the public and ensure a supply of qualified health care professionals. CAAHEP currently accredits more than 2,200 entry-level education programs in 32 health science professions.
---
About WLC
Wisconsin Lutheran College is a nationally ranked Christian college in Milwaukee that serves 1,100 traditional undergraduate, adult, and graduate students through its on-campus and online programming. The college, which prepares students for lives of Christian leadership, is recognized for its academic excellence and superior student experience.