WLC and UWM Announce Dual-Degree Program
January 10, 2020 by Office of Marketing and Communication
Academics

A New, Accelerated Option for Students Interested in Athletic Training
MILWAUKEE, WI -  Wisconsin Lutheran College (WLC) signed an agreement with the University of Wisconsin-Milwaukee (UWM) to offer an accelerated, 3+2 dual-degree program for students interested in pursuing a career in athletic training. Through the partnership, students will complete three years of coursework at WLC and then transition to UWM for their last two years. Upon completion of the program, students will have earned a Bachelor of Science (B.S.) degree in Sport and Exercise Science from WLC and a Master of Science degree in Athletic Training (MSAT) from UWM.
"This is an accelerated program for students who want to pursue a career in athletic training," said Prof. Rachel Kuehl, M.S., head of WLC's Sport and Exercise Science program. "The 3+2 program is an opportunity for students to earn their master's degree in athletic training in just five years rather than the typical six, saving students tuition expenses and allowing them to enter the workforce and begin earning income sooner."
According to the Bureau of Labor Statistics, the rise of sports-related activity in older adults has increased the need for athletic trainers. The profession is expected to grow 19 percent through 2028, much faster than the average. A minimum of a bachelor's degree, as well as licensure or certification, are typically necessary to obtain a job, but many employers prefer master's prepared athletic trainers.
"Advanced education in health care fields like athletic training is often a requirement nowadays," said Kuehl. "This dual-degree program positions our graduates for future career advancement and leadership right out of the gate." 
The partnership is a win-win for WLC and UWM. Students interested in the Christ-centered academic experience that WLC offers can now also achieve their career aspiration through advanced education at UWM. "By linking with Wisconsin Lutheran College, we are thrilled to give more students in the region access to MSAT education in our diverse urban environment," said Dr. Jennifer Earl-Boehm, director of UWM's MSAT Program.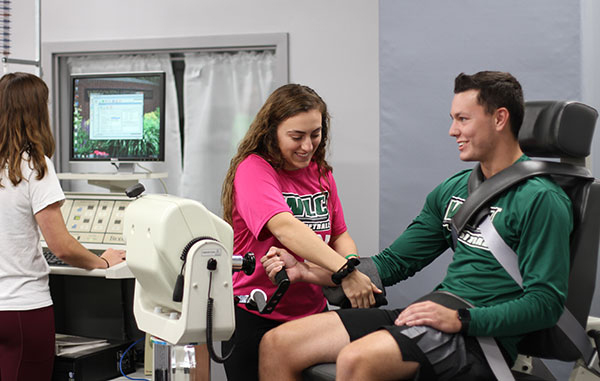 ---
About Wisconsin Lutheran College 
Wisconsin Lutheran College was established in 1973 and is an independent, nationally ranked Christian college in Milwaukee that serves 1,200 traditional undergraduate, adult, and graduate students through its on-campus and online programming. The college, which prepares students for lives of Christian leadership, is recognized for its academic excellence and superior student experience. Caring, Christian faculty work directly with students, who benefit from numerous research, service, and co-curricular opportunities designed to enhance academic and spiritual growth.