Categories: Fine Arts Gallery
Land Reflections: ARTservancy Artists in Residence
exhibition: February 17–April 21, 2023
closing reception: april 21, 5:30-7:30 pm
Join us for a free exhibition in the Schlueter Art Gallery featuring ARTservancy artists in residence through Gallery 224 in Port Washington, Wisconsin. Gallery hours are 9:00 a.m. to 9:00 p.m. Monday through Saturday and 1:00 to 9:00 p.m. Sunday.
A closing reception will be held on Friday, April 21 from 5:30 to 7:30 p.m. in the gallery. The event is free and open to the public.
ARTservancy is a program that began in 2018 in which artist residents create a body of artwork over the course of a selected year, inspired by an outdoor space property. Property partnerships include the Ozaukee Washington Land Trust, the River Revitalization Foundation, the Western Great Lakes Bird and Bat Observatory, Tall Pines Conservancy, and the Milwaukee Area Land Conservancy. ARTservancy's mission is to protect and establish empathetic roles in these spaces, while advocating for equal, safe, and innovative artwork. "Land Reflections" is a visual celebration of artists who have participated in ARTservancy.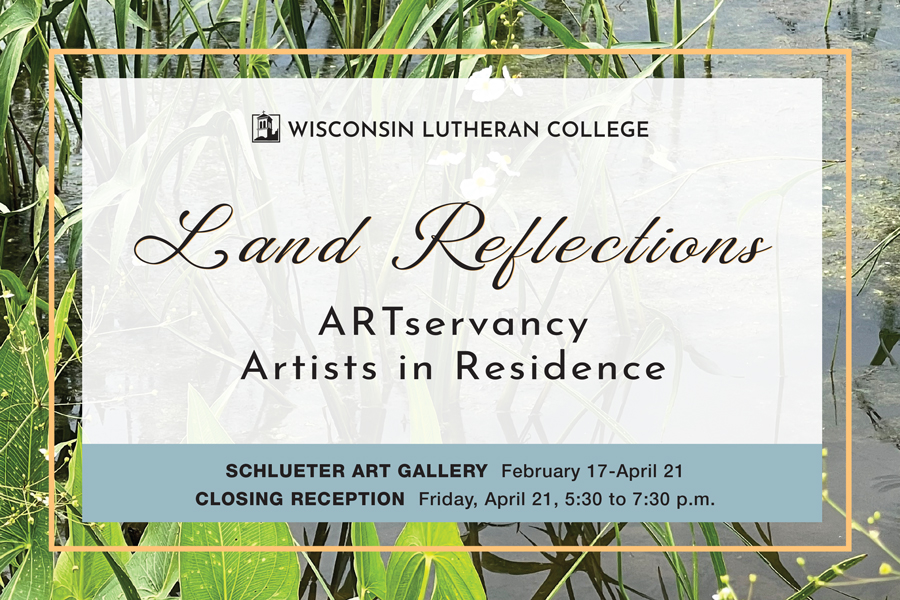 EVENT LOCATION
Center for Arts and Performance
Schlueter Art Gallery
8815 W. Wisconsin Avenue
Milwaukee, Wisconsin